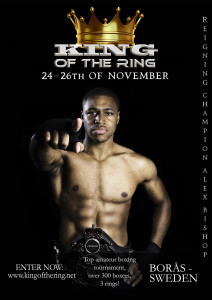 We had the pleasure  chatting with the reigning KING, Alex Bishop. It was a very nice chat and we had a lot to talk about. We are grateful that he took his time answering all our questions.
1.When did you start boxing?
Alex:  Well I first walked into a boxing gym in spring 2009. It was a local gym at a community centre and it was open every Tuesday and Thursday.
2. Why did you start to box?
Alex: I had always wanted to start boxing since I found out what it was when I was around 6 or 7 years old. But unfortunately my mum wouldn't let me partake due to the nature of the sport. When I got to around 14 years old the idea of starting boxing popped back into my head. I then looked up local gyms and joined one as soon as I could.
3. Who was your first trainer?
Alex: My first coach was Paul Webb from Hockwell Ring Abc in Luton, England.
4. How many fights have you had? How many wins and how many losses?
Alex: I have had 45 amateur contests. Won 31. All of my losses bar 1 or 2 have been questionable. But that's amateur boxing for you.
5. Who has been your hardest opponent?
Alex: My hardest opponent was against a fella who used to box for Welwyn Garden City Abc in England. It was in the under 10 fights senior novice championships. I was supposed to enter the 63.5kg weight class but came in 1kg over so I was put in the 67kg category. I was 17 years old and had 7 fights.  My opponent was 28 years old and had 10 fights. I came out fast and easily stole the first round… however the second round went to him and the last round was a war which I felt I had the better of him but i ended up losing on a split decision.
6. How much do you train each week?
Alex: When training for something big (like the King Of The Ring) I'll train up to 5 days a week, usually two sessions which would include some form of cardio in the morning such as running. Followed by sparring, pad work strength and conditioning or something similar later in the day.
7. How much rest time do you have over a year?
Alex: Like most amateur boxers I rarley go more than a week (two at most) without some kind of training all year round.
8. How many fights do you have each year?
Alex: The last 3 years I've been boxing approximately 10 times a year which isn't really that often for an amateur. When I first started boxing my first 3 fights were in 3 different boxing seasons.
9. Do you have any favourite boxers?
Alex: My favourite current boxer is probably Gervonta Davies but my favourite ever is Ray Robinson he had it all. Power, speed, endurance and heart.
10. What do you think of professional boxers in the Olympic games?
Alex: I don't think professional boxers should complete at the Olympics. The Olympic games nicely identify up and coming young talent in boxing. Old pros should stay in their lane.
11. You are the reigning KING OF THE RING, describe your feelings when you just received the announcement that you won the title?
Alex:  Being announced as the King of The Ring Champion was a the best feeling of my boxing career thus far.
12. When you came home with the belt, was there any reactions from friends or media?
Alex: When I returned home everyone wanted to see the belt and wanted me to take it everywhere. Although I was very proud of my accomplishment I'm not much of a show off. So the belt didn't come out too often.
13.Do you feel pressure coming back in november to defend it?
Alex: I don't feel any pressure coming back this year. I'm a much better boxer than I was last year in every department. I'm prepared for any scenario so I doubt anything will surprise me.
14. How do you rank The KING OF THE RING  title?
Alex: The King of The Ring is hands down the best box cup competition in the whole of Europe. I rate the title highly.
15. Do you work beside boxing or are you fulltime boxer?
Alex: I don't currently work and focus all of my efforts on becoming the best boxer I can.
16. What are your hobbies?
Alex:  In all honesty I don't have many interesting hobbies outside of boxing. In my spare time I just enjoy going out with friends, spending time with family and going away for a cheeky holiday here and there.
17. Your favourite meal?
Alex: Grilled BBQ chicken with a side of nicely seasoned rice and coleslaw followed by a chocolate brownie or cheesecake goes down a treat
18. Your favourite actor?
Alex: Sylvester Stallone takes it for the Rocky and Rambo films. Can't go wrong with one of those on movie night.
19. Your favourite movie?
Alex: The first Rocky film is a classic. Easily my favourite.
20. Do you look forward to KING OF THE RING?
Alex:  I look forward to every contest but this is the big one. I've been preparing for this for a while now so I'm more than ready.
21. Do you have anything you want to say to your fans as the reigning KING OF THE RING?
Alex:  November 24th – 26th you will all witness three fantastic days of boxing. I won't be returning to Boras on my own. But with a whole army hailing Hoddesdon Boxing Academy. We are all well prepared and we intend on holding nothing back. Enjoy the show.
Big thank you, Alex, for this interview. We look forward to meet you again in november at KING OF THE RING. It will be a pleasure.
Alex: Thank you, see you soon.