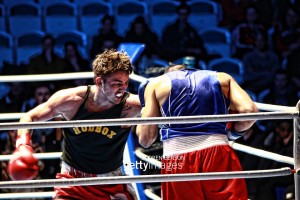 After a hardfought, and what would come to be the fight of the year, during King of the Ring, Clarence Goyeram lost his belt when he fought Abdul Ibrahim, from Hoddesdon. Abdul ibrahim was now one of the three candidates for the belt. Another boxer impressed very much during friday and that was Jordan Reynolds from Hoddesdon as well. It was great boxing during friday and saturday. Before sunday morning the jury had three candidates for the belt: Abdul Ibrahim, Jordan Reynolds and Bernard Angelo Torres from Norway.
The jury of 7 who decides who gets the belt of all those great boxers had an easy task this time. It was never any doubt, Jordan Reynolds was to good, to strong and to skillfull.
with the motivation: Jordan Reynolds can box, can fight and masters all distances. With short hard punches, the proper technique and good headmovement he is never in any danger.With powerful shots he win his bouts in a way of a true champion. Jordan Reynolds is the NEW KING OF THE RING! We salute him!
Here are all the prizewinners:
King of the Ring 2016:
Best Referee : Stefan Nordin, Sweden
Best Judge: Geir Dalen, Norway
Fight of the year: Clarence Goyeram, GTB – Abdul Ibrahim, Hodbox
Best slugger: Adel Belalia, Djurgården IF, Sweden
Best Techniqual boxer: Bernard Angelo Torres, Gran BK, Norway
Best Team: Hoddeston Boxing academy, England
Best Diploma: Kai Newing, Swale Gloves, England
Best Junior: Andreas Palm IF Linnea, Sweden
Best Youth: Mohammed Hossein Mirzaei Werzaneh, Tampere Boxing Association, Finland
Best Elite: Abdul Ibrahim, Hoddeston Boxing academy, England
KING OF THE RING: Jordan Reynolds, Hoddeston Boxing Academy, England
Welcome back in 2017!